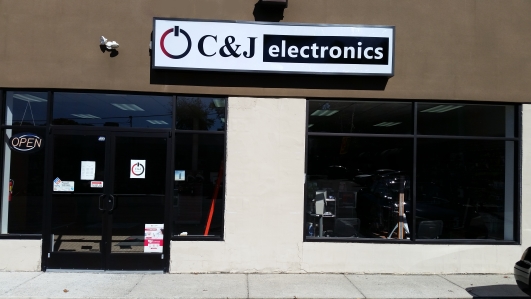 1023B North Pearl Street
Bridgeton, NJ 08302
856-455-0086
C & J Electronics, LLC. came into existence on March 19, 2005. While the company is not that old, the people behind it are very experienced. The founder, Chris Jespersen, has been the owner of Jestel -- the cellular department located in our store -- for over seven years. In addition, Chris has been in the cellular industry for well over a decade and previously has managed a RadioShack corporate store. His life-long goal of helping others find what they need and get it at a fair price is the foundation from which C & J Electronics was built. It is with that goal in mind we look forward to helping the people of Upper Deerfield, Bridgeton, Hopewell and the surrounding area shop locally without having to sacrifice the advantages of shopping at a local mall. We're happy to now provide you with a much more extensive inventory then ever offered at this location. We would like to help you find what you need right here at home, without having to take your business and your dollars to the Vineland area. We look forward to being a valuable member of this community for years to come. We have just completed an extensive remodeling project to help make room for all the new inventory we will be carrying. We also invite you to meet our friendly and knowledgeable staff that is there to help you with any questions you might have. You've Got Questions, We've Got Answers at the Carll's Corner RadioShack. We invite you to shop our store:
Store Hours:
Monday: 9:00am - 6:00pm
Tuesday: 9:00am - 6:00pm
Wednesday: 9:00am - 6:00pm
Thursday: 9:00am - 6:00pm
Friday: 9:00am - 6:00pm
Saturday: 9:00am - 5:00pm
Sunday: CLOSED
PLEASE NOTE: We are not affiliated with C&J Electronics on Amazon.com in any way.